Well, I've tried. I thought posting pictures of my daily walks on Instagram would keep me more motivated. I even managed to create 83 of my planned #365hikeschallenge posts.
This is post 83/365 – a picture of a beautiful tree in Athens, Greece, taken on my way to the produce market on Saturday.
This picture was taken on the 27th of May. Today is the 3rd of September. What happened?
I was already waiting several months for surgery, trying very hard to stay as fit as possible while waiting.
End of May I got a phone call telling me that there was a 5-week delay. My motivation tanked below zero. I was sick 5 out of 7 days for weeks in a row already, and tired of waiting.
Whenever I did have the energy I walked around the block, but my daily walks weren't about exploring nature or a new city anymore, just exercise.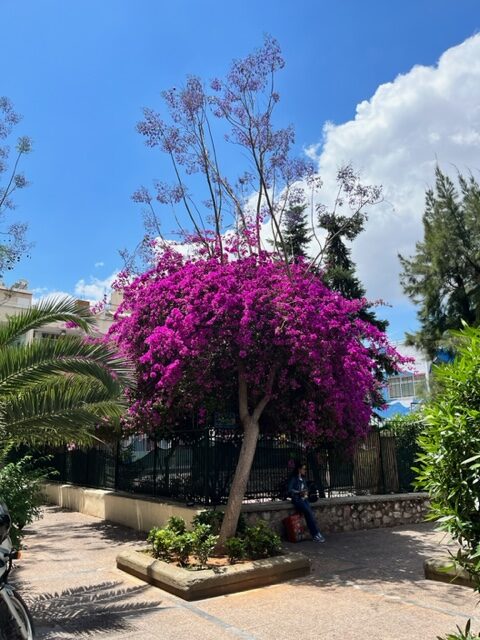 A Daily Picture of my Street on Instagram didn't Work.
I kept on scoring my walks on my paper habit tracker and did remarkably well. Seeing all the days that I managed to walk, even though I was feeling tired or sick made me proud.
Habit tracking always works for me, to keep me motivated and improve myself. But the picture on Instagram felt as a burden, a nasty task, during the times that I only walked around the block.
While I was in Athens, I liked taking pictures of my surroundings. But it still didn't work as a habit tracker.
Instagram is a Photo-Journal for Me, not a Habit Tracker
I am 7 weeks post-surgery now, and once again hiking back to health. My paper journal is full of marked-off daily walks. But my Instagram is still quiet. Partly because I didn't make the decision to quit using Instagram as a habit tracker.
Now that I decided that it doesn't work that way for me, I might start to share pictures of my daily walks again. Whenever I feel like it, or if I see a beautiful sky or tree.
Do you use Instagram as a Habit Tracker?
I am curious about your experience, please tell me what works for you!