Yes, it does. The good news: you don't have to go for a run. Walking improves your mood.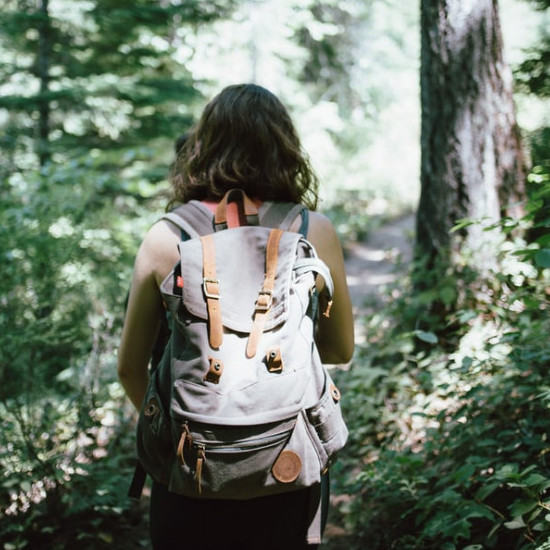 To make the best of your walks while battling depression, I share some tips and ideas about your surroundings, your company, your goal setting and overall self care. This way you can optimize the positive effects of your walks.
Location matters, when walking to relieve depression
Moving your body supports your brain in many ways.
But there is a big difference in effect between walking indoors, walking in urban surroundings and walking in nature.
Read more

: Does walking help with depression?
Research shows that walking on a treadmill in the gym or walking inside your house is least effective, but still helpful for your mental health.
Going outside for your walk has a stronger positive effect, even if it is just a walk around the block.
The absolute best way to use walking as help with depression is hiking in nature, for a minimum of 30 minutes.
However, if you are battling a severe depression, even a half hour walk outside can be a daunting task. A short 10-minute walk in your neighborhood is more easily achieved, and can be celebrated as a success, a goal reached on a difficult day.
Don't overextend yourself at the beginning of your walking journey. When you start to feel better, you can slowly work towards short hikes in nature, near to where you live.
If and when you enjoy these nature hikes, the duration of your walks will increase organically.
Finding a walking buddy can be helpful to get moving
It is much harder to stay on the couch eating chocolate chip cookies if you have a date with somebody else than yourself.
Planning to go for a walk with a friend or family member works very well for me personally. I don't have a lot of self-discipline, so I use the date as external accountability.
A friend of mine gathered a 'Walking in every Weather, including strong Wind and Rain'- club of people around her, to keep herself motivated. They have a (growing) whatsapp community where they arrange meet ups in small groups daily. I am thinking about copying her idea and creating a group of people in the city where I live.
However, this can be way too social and stressful if you are severely depressed at the moment.
Search for a doable challenge. Maybe a short walk twice a week, with a trusted friend who accepts you in whatever mood you're in, is a better goal than a club with a lot of people to begin with. Try to avoid extra mental pressure and stress during your depressed episode.
I never suffered from depression (anxiety is more my thing ;-) ) , but a lot of my friends and family do. I made it a habit to offer them companionship on their walks, even if they didn't feel like talking. Don't give up after the first no, but keep on inviting them outside, without pressuring them. One day they might say yes...
A dog might be the best companion on your walks
Why is that? Dogs are always happy to see you, and excited to go out with you. They never tell you to lighten up, get over it or stop complaining.
Bonus : they don't expect you to talk about your feelings or urge you to see things positive.
One of my friends, who is a cat person by the way, borrowed her neighbors dog for a lunch walk several times a week during her recovery from severe burn out. This was an excellent solution, she could reap the benefits of having a dog, while keeping her cats happy 😉
Speaking about dogs in relation to depression, this YouTube video is a must see for everyone who suffers from depression or has a depressed loved one :
Some stats and facts about walking and depression:
This article from the Mayo clinic provides good info about how to start with physical activity when you're depressed. Depression and anxiety: exercise eases symptoms
A daily walk of just 30 minutes can diminish your depression with 36% !
Walking as exercise is easy and free of costs
You don't need a membership,
There is no expensive equipment,
no need for a spare room in your house,
you can be flexible in your planning.
you can combine it with listening to your favorite music or a podcast
Walk your worries away, then?
Well, it's not as simple as that. Not everyone who manages to walk for 30 minutes instantly starts to feel better. Walking isn't a magic pill for depression. But the scientific results are promising. So it doesn't hurt to try!
Consult with your doctor or therapist how to include a walking work out in your treatment, and just start. Easier said than done if you're really down, I know… But I am cheering for you, every time you did manage to put your walking shoes on and did get out!
I would love to hear from you. Does walking help you improve your mood? Do you like walking alone, or do you prefer company?