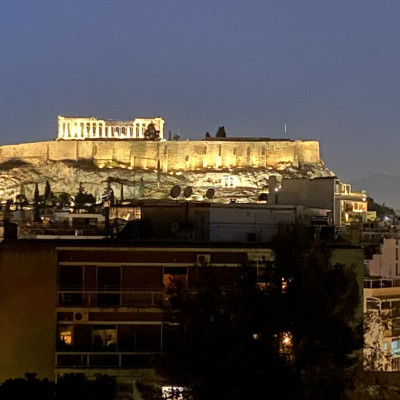 Quick post, to share some pics of my visit to Athens.
I have been to Athens several times before, so I didn't feel the urge to visit all the historical sites in the 5 days I spent with my dad at the beginning of April 2022.
We revisited quite a few of them anyway, focusing on 1 museum/ historical highlight a day. For the rest of the time, we just followed our feet, randomly strolling through the city.
*This is the view from the balcony, I litterally saw the Parthenon / Acropolis on waking up and before going to bed, how cool is that?
When we needed a break, there was always a terrace with coffee or lunch around.
I ate a lot of tzatziki, countless mezzes and drank numerous ice coffees, but didn't gain weight.
Apparently I walked enough to burn all those delicious calories!
Why I consider my walking in Athens a work out?
Walking these streets is more effective than being on the treadmill in my gym for 45 minutes if you ask me. Look at this picture.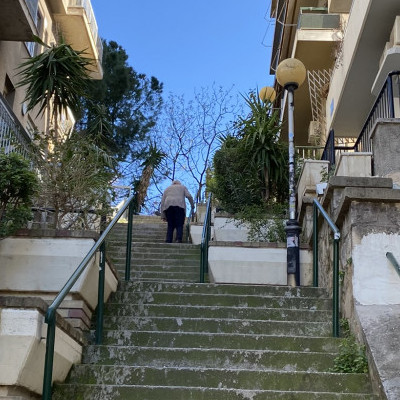 To go back to our appartment, we had to walk these stairs. The picture only shows part of them.
We did this at least twice a day. (yes, that's my dad, bravely climbing the stairs – equivalent of 4,5 floors inside a building)
But that wasn't the only uphill street we walked. Athens is full of steep streets and alleys!
I really enjoyed the views of roofs, stairs, buildings, parks, graffiti, street art, historical sites, touristic streets.
No need to go to the gym to walk some stairs on a machine, this training took place in way better and more motivating surroundings.
Street views around metro stations Akropoli and Syngrou Fix
I enjoy everyday street life in a city about just as much as the touristic and historical highlights.
Our appartment is in walking distance of these metro stations, so a lot of our random strolls were in this area. My iPhone was my camera, my pictures are nothing fancy or professional, just a peek over my shoulder while walking.
If you like to see my snapshots of these walks, they are on my instagram account. If you click on the Street Art picture below, it will lead you to my Instagram account.
I included a link to a map of Athens with metro station Syngrou Fix  – this way you know in which part of Athens most of our 'father daughter city hike training' took place.
Street Art