Hiking in winter can be splendid, but how to stay warm outside, walking in cold or rainy weather?
I live near the North Sea coast in Holland, so the winters are moderately cold, no extreme temperatures here. Rain, fog and strong winds are more regular companions during the winter months. Even in these weather conditions, a good preparation before a long hike is necessary.
Staying Dry is Vital to Stay Warm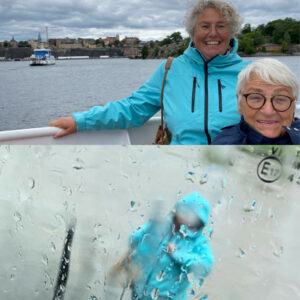 You want to make sure that you don't get wet, not only from the outside, but especially from the inside. So a good raincoat is essential. But if you sweat easily and plentiful, like me, staying dry from the inside out can also be a challenge, even in dry weather!
According to the weather and the circumstances, I either use breathable sport shirts from high tech materials, that transport any produced sweat swiftly away from the skin to the next layer of clothing, or a first layer clothing of good quality merino wool .
Whatever you choose, make sure to keep away from cotton!
Yes, cotton is breathable, yes it is natural and comfortable, I get it.
But the minute cotton gets wet, it makes you cold.
And it takes ages to dry anyway. Plus, it is both heavy and bulky, often a nuisance in your backpack. So on my hikes in nature, I learned to avoid it like the plague.
For a day of urban hiking / city strolling I break the 'no-cotton-rule' regularly, because I don't always feel comfortable, wearing trekking clothes in a more 'civilized' environment. But more often than not, wanting to look cute comes with a price: feeling too cold to be comfortable.
This post is also available in Dutch : Hoe blijf je lekker warm tijdens een wandeling in de winter? 
The Solution – Dressing in Layers
What we need, to be prepared for any kind of weather and keep us warm and dry during our hike, are 3 different layers. This way, we can easily adjust our temperature during the day, by putting on an extra layer or taking it of, depending on sunshine, wind, taking a break or hiking a steep hill.
These layers are:
Base Layer

can be synthetic or wool
fits snug to your skin
wicks sweat away from your body to keep you comfortable
Mid Layer

insulation to retain body heat
fleece or puffy jackets are most commonly used
they are quick to dry and easy to pack
Outer Layer

Protects you from the elements
windproof and waterproof
preferable highly durable
Base Layer Clothes – My Choices
long johns from merino wool
long sleeve shirt from merino wool
hat from merino wool – keeping your head warm is vital
merino wool hiking socks (also excellent in hot weather!)
short sleeve synthetic shirt
synthetic leggings / yoga pants
What I love about merino wool, is that it is odor- resistant! I really like hiking in my high tech sports shirt during mild or warm weather, but after a full day of walking, the outfit is outright smelly. Socks and undies made of merino wool on the other hand, can be worn for days in a row, if you let them air after you finished your hike for that day.
On the other hand, high tech material is easily washable and dries quickly. So it depends on the circumstances and the duration of my hike, which clothes I choose as my base layer.
Confession: While I normally never used cotton clothes for hiking, I currently do my daily walk in whatever clothes I am wearing. Usually a winter jeans and a cotton shirt underneath a fleece jacket. So I completely ignore my own guidelines on the base layer. Why? Because at the moment, my hikes are in fact walks around the block (or on the nearby beach) of max 2 hours long. I can't wait to do a proper hike in the near future – my wardrobe is ready!
Mid Layer Clothes – My Choices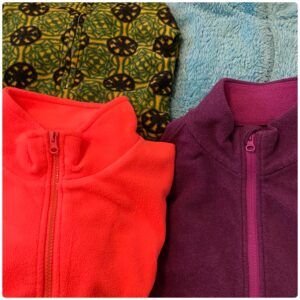 For this layer I just use what I already have. I bought a few comfortable fleece jackets long before I understood that this might not be the most sustainable choice in clothing. Which in fact is true for all synthetic clothing, and keeps me arguing with myself about what to wear and what not to wear.
For now, I use what is in my closet, both in Base and in Mid Layer Clothing, and make sure that I don't fall for the 'fast fashion' seduction. I have enough, I will wear it until it needs to be replaced and will make an informed decision about what to buy next, in that given moment in the future.
As you can see in the picture, I like colors. (The bright orange one messes with the colors of the other fleece jackets, they are much brighter in reality).  The green/yellow/black fleece jacket is over 30 years old, and still one of my favorites.
For trousers, I normally don't use a mid layer. I am perfectly fine with light trekking trousers, soft shell for example, plus a pair of rain trousers in my day pack. My legs normally don't get sweaty, so my only concern here is preventing to get wet from the outside.
Outside Layer Clothes – My Wishlist
This is the most expensive category of clothing. A good waterproof, windproof jacket, preferably breathable isn't exactly cheap. Fortunately, my favorite Gorotex Jacket from Patagonia lasted for ages.
But when I had to replace it last year, buying a new Gorotex Beauty wasn't in my budget. So, I put it on my wishlist and for the time being bought a more affordable, breathable water- and wind proof jacket at Decathlon.
Since I am still in recovery, trying to hike myself back to health with short and relatively easy hikes, I don't have to worry about not having top-notch clothing right now 😉
Read the story of my recovery from long Covid here : Can I use hiking as exercise to get my health back?
Hot Tea of Coffee in your daypack
Although not related to layering clothes to stay warm, this is part of my usual preparation before a walk. I hardly ever leave the house without hot herbal tea in a thermos flask or cup, and it makes a huge difference.
When I feel stuck, or tired, a quick break with a hot tea (even standing up, if it rains) works wonders for me. Even more when I also have a healthy, tasty energy snack with me!
Other tips and tricks to stay warm?
Now I'm curious. What do you do to keep comfortable and dry? What layers do you wear? Do you bring a hot drink with you? Do you have other recommendations for me?
I would love to hear from you.
Happy Hiking!